As you know, in 2012, the Health Care Authority (HCA), the State agency responsible for administering Washington's Medicaid program, drastically changed how it contracts with sign language interpreters across the state. As a result of those changes, there have been numerous negative effects on communication access to medical providers for Deaf and Deafblind patients. The most noticeable is the sudden drop in the percentage of filled requests for ASL interpreters. The contractor charged with filling requests is currently only able to fill about 25% of requests for ASL interpreters in two counties (see map below). Providers and patients have no information about why their requests are not being filled, patients are forced to reschedule appointments numerous times because no interpreter could be found, many providers have stopped even attempting to get an interpreter, and frequently patients are forced to go through with an appointment without an interpreter. Because of their own frustration, many providers are contracting with VRI companies, which is only sometimes effective.
For more background information in ASL, click here.
The agenda for the meeting with representatives of the HCA was packed because we only had an hour. Of course, everyone at the table would have liked more time, but this meeting was an important step in initiating change.
Dr. Robert Crittenden, the Governor's Policy Advisor, facilitated the meeting.
The attendees representing the Medical Interpreter Task Force (MITF) were
· Theresa B. Smith, MITF Chair
· Kristi Cruz, attorney with Northwest Justice Project
· Kellie McComas-Shapard, representing Washington State Association for the Deaf
· Jackie Engler-Morris, representing Washington State Deafblind Citizens
· Angela Theriault, Director of Deaf Blind Service Center
· Jenifer Mendoza-Morales, advocate from Abused Deaf Women's Advocacy Services
· Whitney Hill, Washington State Registry of Interpreters for the Deaf, legislative committee
· Ellie Savidge, advocate, Lighthouse for the Blind
· Allie Joiner, advocate, representing senior citizen patients and children
· Jeannie Davis, deaf citizen
· Luanne Conner, medical interpreter
From Office of the Deaf and Hard of Hearing (ODHH)
· Eric Raff, Director of ODHH
· Berle Ross, Manager of the sign language interpreter contract
Representing the HCA were
· Vazaskia Caldwell, Unit Manager
· Johnny Shults, Medical Assistance Program Specialist
· Preston Cody, Assistant Director for Health Care Services
The negotiation started with background of the law and the current state of the problem., including the fact that there are important legal differences in laws that govern spoken language and sign language interpreters that may have been overlooked in the implementation of the HCA's contract. Next, advocates from the Deaf and Deafblind community were able to tell impact stories about what struggles they and those they represent are encountering as patients in the medical system, including the ways in which a VRI system is inappropriate. The advocates emphasized the ripple effect this contract has had that effectively denies communication access to healthcare for Deaf and Deafblind patients regardless of whether they have Medicaid or private insurance. The HCA representatives recognized that there was an issue that needed to be fixed.
The HCA contract is soon up for renewal and representatives came prepared to announce they were considering raising the interpreter rate again (In 2013 the flat rate for ASL interpreters went from $50 per hour to $80 per hour with no change in contract terms, which resulted in little change to the number of interpreters in the pool) and initiating a pilot project using Video Remote Interpreting (VRI).
MITF representatives made it very clear that
· we have been very patient for three years,
· now it is time for significant changes.
· Any changes should be driven by feedback from the Deaf and Deafblind community.
· A simple rate increase would not be sufficient to solve the problem because the terms of the contract are still the biggest barrier for interpreter's willingness to sign up, and
· VRI (as addressed earlier in the meeting ) is not "the solution"
HCA representatives agreed to revisit contract terms and seemed to take the VRI option off the table, at least for the time being, but there was no commitment not to pursue VRI for ASL.
Robert Crittenden, the Governor's policy advisor, agreed that the current state of the contract is not acceptable, that the two issues are a) fill-rate and b) appropriate referral (appropriate interpreter and/or use of VRI). He encouraged the HCA to start communication with our group about changes going forward to which they agreed.
HCA representatives asked for more information from the MITF, they left saying they intended to meet with us again, stating they are committed to making this contract a success.
Two added notes: Eric Raff has resigned his position as Director of ODHH and is moving to North Carolina. Berle Ross at ODHH is continuing to actively advocate for individuals who have been denied interpreting service who contact her.
We will keep you informed of any future progress. Please stay tuned for future updates.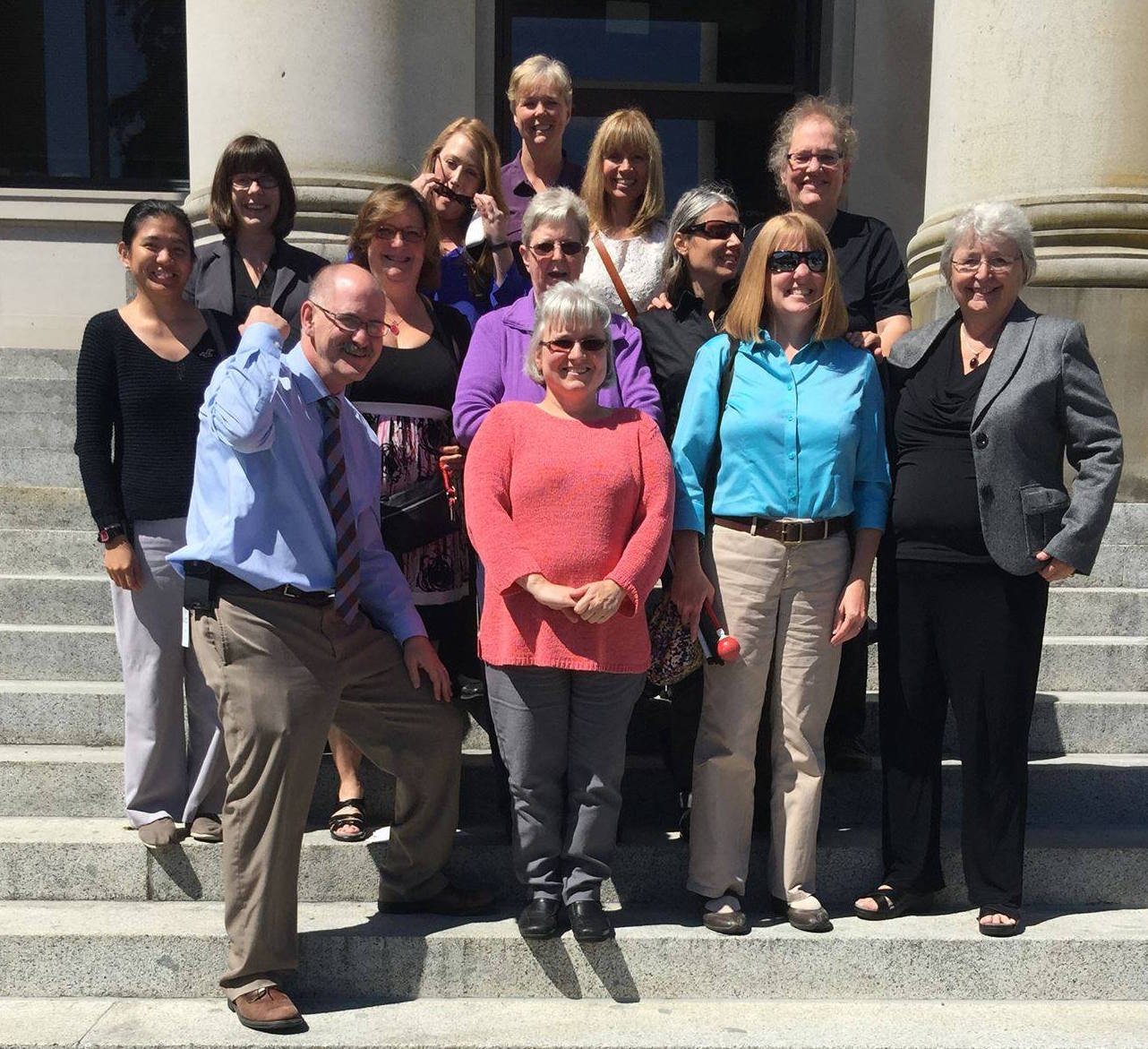 MITF group standing in the hot sun on the stairs of the Insurance Building on the Capital Campus in Olympia in front of some large, white pillars
MITF group chatting on the Capital Campus after the meeting
Number of Medicaid ASL interpreter requests filled from 2012 to 2014
Status
Clark
Pierce
King
Spokane
Snohomish
Kitsap
Whatcom
Benton
Cowlitz
Yakima
Franklin
Thurston
Lewis
Skagit
Multnomah
Grays Harbor
Chelan
Skamania
Stevens
Whitman
Cancelled Appointment
Percent of Requests
25.94%
35.31%
18.13%
8.13%
3.13%
1.56%
0.31%
0.94%
2.50%
0.31%
2.50%
0.31%
0.31%
0.63%
Number of Requests
83
113
58
26
10
5
1
3
8
1
8
1
1
2
Filled Request
Percent of Requests
41.28%
38.63%
11.92%
3.97%
1.77%
1.77%
0.66%
Number of Requests
187
175
54
18
8
8
3
No Shows
Percent of Requests
72.31%
18.46%
6.15%
3.08%
Number of Requests
47
12
4
2
Unfilled Request
Percent of Requests
20.52%
13.89%
22.64%
16.85%
8.39%
3.03%
2.47%
2.05%
1.06%
2.12%
2.12%
1.34%
1.06%
1.06%
0.56%
0.42%
0.14%
0.14%
0.14%
Number of Requests
291
197
321
239
119
43
35
29
15
30
30
19
15
15
8
6
2
2
2